Most Dangerous Women: Bringing History to Life through Readers' Theater
A documentary with music of the international women's peace movement.
"It is my belief that there is a greater understanding than ever that women need to be equal participants in our homes, in our societies, in our governments, and in our work places."
—Smart Girl & UN Women Global Goodwill Ambassador Emma Watson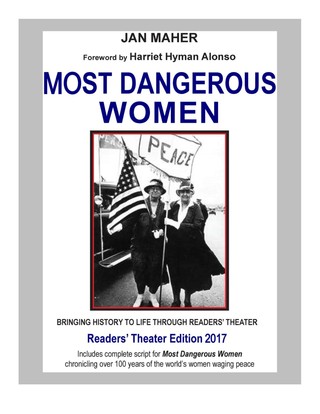 "An extraordinary assemblage of women speak about war and peace. They speak in clear and compelling language, often with song and poetry, and what they tell their audience both educates and inspires. If Most Dangerous Women were performed in schools across the country, we might well see a new generation of young people dedicated to ending the scourge of war."
—Howard Zinn, Author of A People's History of the United States
The Readers' Theater edition includes the play Most Dangerous Women by Jan Maher and Nikki Nojima Louis, documenting a century of the international women's peace movement. Supporting chapters provide production guidelines and suggestions for using the play in classroom and community settings to educate and inspire.